The Chocolate Bar Interview 010: Emily Stone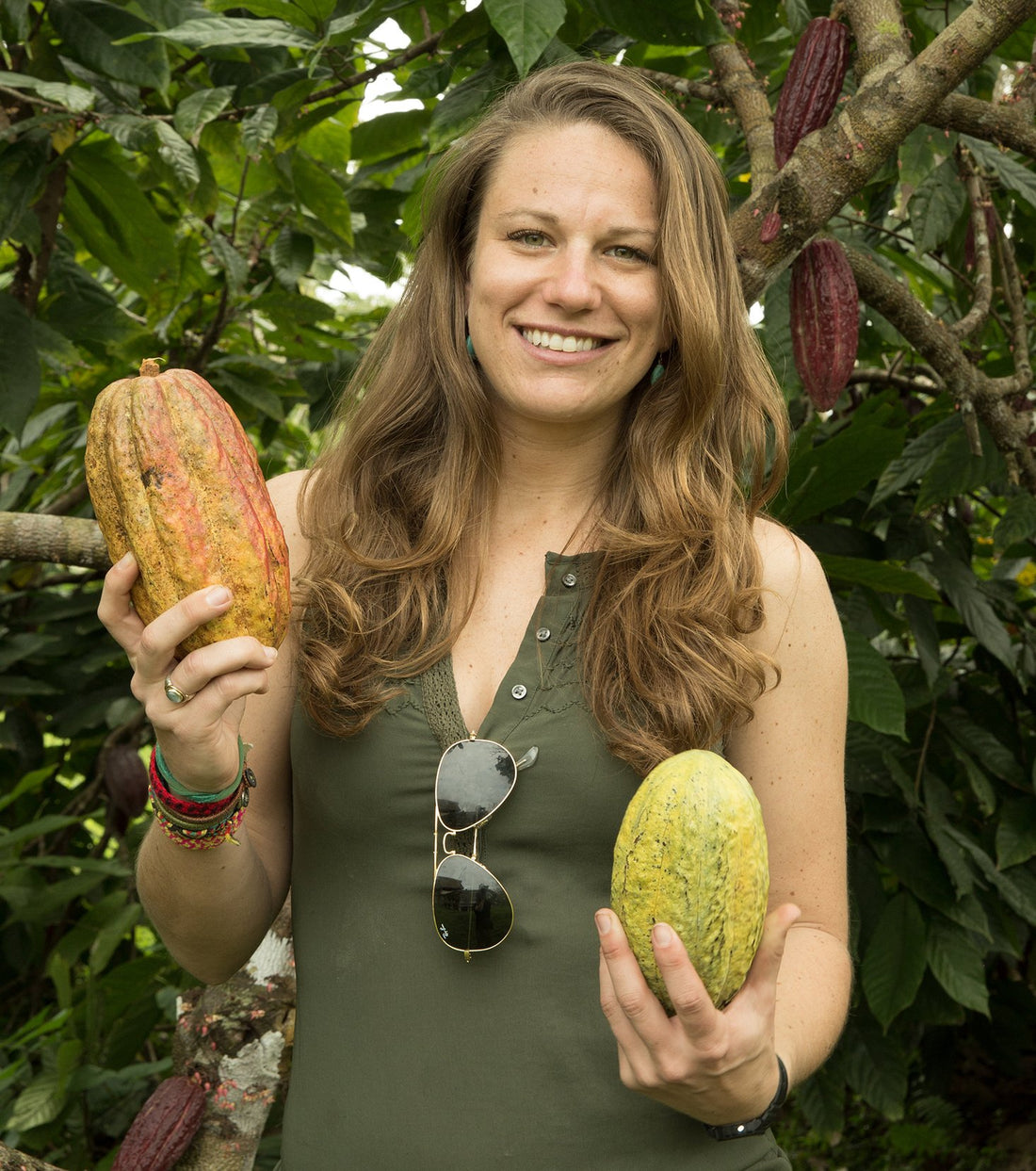 For our latest interview we caught up with Emily Stone, the founder of Uncommon Cacao and a key figure in the world of ethical and high quality chocolate. Uncommon source high quality cacao and build long-term relationships with both farmers and chocolate makers, helping them to connect and create beautiful things. Many of the chocolate makers we work with at The Chocolate Bar source beans via Uncommon, so we thought you might like to know a little more about what's happening behind the scenes. 
In a nutshell, what does Uncommon Cacao do?
Uncommon sources the finest quality cacao from 14 origins across six different countries for chocolate makers around the globe. We operate our own origin companies in Belize (Maya Mountain Cacao) and Guatemala (Cacao Verapaz), and through our U.S.-based cacao brokerage (Uncommon Cacao) we deliver best-in-class customer service, quality control and development, impact reporting, and cacao adventures to 150+ chocolate makers globally. At Uncommon Cacao, we believe business can create positive social and environmental change and are grateful and excited to be a part of the bold vision of radical transparency in cocoa. We're one of the only supply chain companies in the world to publish our pricing and margins from origin through final sale. We are committed to doing honest business as a new kind of supply chain company.
What inspired you to start the business?
I've been a chocolate freak since childhood - my first independent school project at age 10 was "Desserts Around the World." As I went through school and started my career though, chocolate stayed squarely as a hobby and treat, and I devoted my time to activism on social justice and environmental issues. I was working as a shareholder activist for an environmentally-responsible investment firm in Boston in 2010 when I reconnected with chocolate. I was investigating fair trade certifications, and I was blown away by the extent of the issues associated with chocolate and the lack of entrepreneurial innovations to solve them. I realised there was a market gap for producing high-quality cacao with a transparent supply chain focused on social and environmental impact working with small-scale farmers. Shortly after, I was on a plane to Belize to launch Maya Mountain Cacao.
How do you decide which farms to work with?
We always start with a sample of beans. We conduct both physical and sensory evaluations on the quality and flavour profile of the cacao. If we see potential in the beans, we dive into a series of conversations with the producers, captured in our 46-indicator Supplier Scorecard that covers various sustainability, governance, and quality factors. After that, we like to visit an origin in person to build the relationship, and from there we'll continue with harvest samples and then a trial container. We work with select chocolate makers to try out various roast profiles and processes on the beans - and if chocolate makers (and their consumers) like them, we'll bring the cacao into our full line-up!
How do you teach farmers about quality, and how to achieve it?
Quality means so many things, from the genetics planted, to the farm production practices, to post-harvest processing, storage and logistics. From our experience the best way to teach farmers about quality, as it relates to any of those factors, is through a combination of tasting their own product and price incentives. The learning process to improve quality can be expensive for farmers, especially when it means not being able to sell some percentage of their crop due to animal or disease damage, rejecting wet cacao that was harvested under - or over - ripe, or even a need to replace some of the genetics on their farm. We seek to be partners for farmers in this journey and support them through Kiva micro-finance loans, grant projects, and pricing incentives wherever possible. We have learned that improving post-harvest processing is best done hand-in-hand alongside farmers so we can actively incorporate flavour and quality feedback from chocolate makers and ensure implementation of new practices. This is why we almost exclusively work with centralised fermenteries, where trained professionals are running the post-harvest process. At all of our origins in Guatemala, these trained professionals are farmers themselves who we have taught about fermentation and drying over the last four years and who are accompanied by ongoing technical assistance from Uncommon Cacao's on-the-ground team at Cacao Verapaz.
In your experience, what influence does ethical trade have on quality of product?
Producing high quality cacao is expensive. The prices paid by commodity markets make it extremely challenging for smallholders in particular to produce quality cacao. Thus, ethical trade in the form of paying higher, transparent prices for better quality sets the critical foundation for accountability around continued quality and consistency of cacao. However, there are many ethical trade models, such as Fairtrade and Rainforest Alliance, that do not focus on either the prices paid for cacao or the quality of the cacao produced. Ethical trade is not clearly defined in cocoa and can mean many things, but our perspective is that transparency is absolutely key to ethical trade, whether you're talking about high-quality cacao or bulk cacao.
What would you say to someone who is more willing to trust chocolate with Fairtrade certification than chocolate made with beans sourced via Uncommon?
Despite their good intentions, certifications have not been shown to create meaningful change in farmer income. Premiums typically go to co-ops, not farmers, adding bureaucracy and costs without directly improving farmer livelihoods. Fairtrade certification does not measure or verify quality or flavour in cacao in any way, which makes it much harder to produce great chocolate. Choosing chocolate made with beans sourced via Uncommon guarantees that strict quality controls have been implemented across the supply chain to ensure only the best cacao makes it into your chocolate, and our annual transparency reports provide clear data on farmer revenues, participation of women in the supply chain, environmental practices, and more.
What's the biggest challenge you face with the business?
Our greatest challenge is in the matching of supply and demand for specialty cacao as the industry grows, and in the communication with both farmers and chocolate makers about these dynamics. As craft chocolate has grown, many new specialty cacao origins have also emerged over recent years. Makers will sometimes choose to use new beans as they come onto the market and reduce their use of beans they've used in the past, seeking novelty and excitement for their production and marketing. This can make it very hard for farmers and origins to plan. For Uncommon Cacao, it makes it hard for us to know how much of each origin to bring to market each year, and yet it becomes even more critical for farmers and exporters to maintain and improve the quality of the cacao they produce to stay relevant and of interest to craft chocolate.
What's your favourite thing about doing what you do?
My favorite days at work are hosting chocolate makers at origin, wandering through the fields together admiring the beauty of farms and hearing farmers educate makers in detail on the practices they have learned to improve productivity and quality. Sitting down together for a hearty lunch of spicy chicken soup in a farmers' home so the makers can share more about their companies, their markets, and the challenging realities they face on their own turf. There is an incredible comradery in specialty cacao and craft chocolate because, I think, we all realize that what we are doing is so hard yet so important.
What are some of the best chocolate bars you've tasted recently?
I love dark millks!
Sirene Dark Milk Chocolate, Guatemala 65%
Castronovo Tumaco Dark Milk
Fruition Brown Butter Milk Chocolate
Thanks so much to Emily Stone for taking the time for this interview. If you'd like to try a bar made with beans sourced via Uncommon Cacao, I highly recommend the Dick Taylor Belize Toledo or the Hogarth Alto Beni dark milk.
Photos credits: Uncommon Cacao
Emily Stone portrait by Erik Hammar