Why We Do What We Do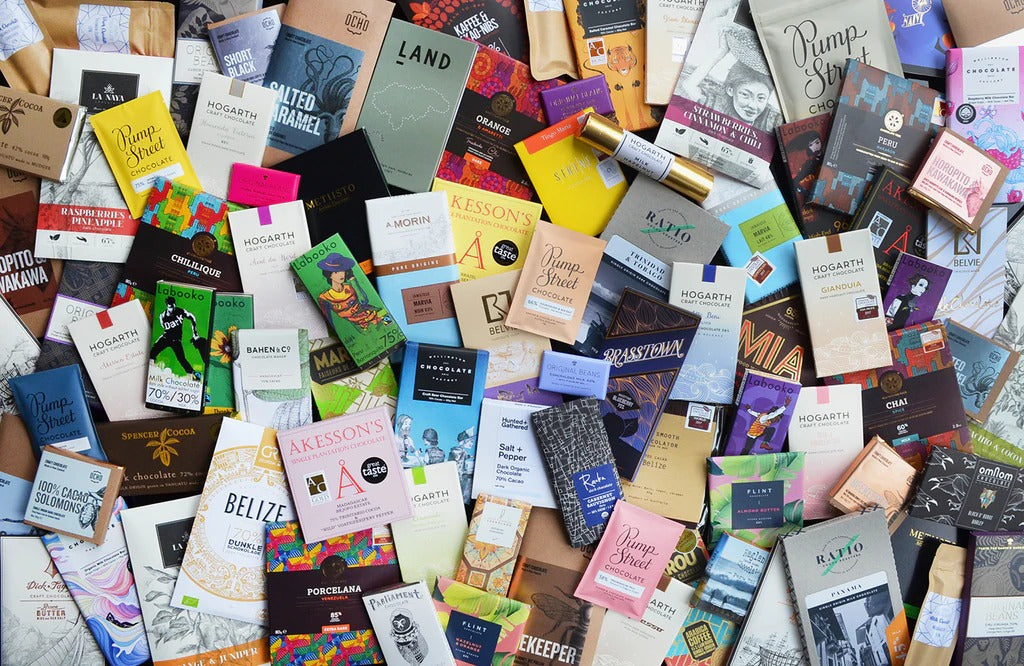 At this time of year it's always good to take some time out and reflect on the past, present and future. The Chocolate Bar had a big year in 2017, with the launch of our subscription service and snazzy new branding, and after a fantastic Christmas rush it's been great to have a few days away and enjoy our beautiful country. During this time away, I was thinking a lot about why I started this business and how successfully we've worked towards our goals over the past two years. I thought I'd break this down into five bitesized pieces to share with you - these are all quite complex topics but I've tried to keep it as brief as possible...
1. Expanding the Horizons of Deliciousness
As you've probably gathered already, I'm extremely enthusiastic about delicious things and I think that people should experience as many amazing flavours as possible in life. It's such a simple pleasure that unites us as people and can offer a little escape from the many difficulties we face. It's also a way that we can humbly appreciate the natural gifts of the earth and the wonderful skills and talents of people who can turn this bounty into exceptional food and beverages.
I always credit the start of this business to the moment I tasted Wellington Chocolate Factory's Peru Norandino bar. This was my first taste of single-origin craft chocolate and the first time I realised that there's a whole world of different flavours to be found within cacao and chocolate, rather than the standard 'chocolatey' taste that we all grew up with. My absolute favourite part of running this business is being able to pass on this lightbulb moment to my customers - there is endless satisfaction in seeing people's eyes light up as they discover completely new flavours and experiences. 
2. Preservation of Diversity
The chocolate makers we support are in turn supporting farmers who focus on quality, not quantity. Growing high quality, heirloom and specialist cacao varieties is not the easiest way to make money, especially as industrial chocolate makers will usually not pay the premium price that these beans deserve. Because of this, many cacao farmers are going down the path of producing poor quality cacao that has an extremely high yield and indistinctive flavour, such as the ever-popular CCN-51.
The result of this trend - alongside other factors such as environmental change and deforestation - is that many heirloom and fine flavour cacao varietals are at risk of extinction. Through supporting craft chocolate makers who pay a fair price for fine flavour cacao, we hope we can help to grow the industry, making it more viable for farmers to choose the path of high quality and diversity. When you purchase chocolate from The Chocolate Bar, you're helping future generations to experience a world of flavours and deliciousness that could one day be lost. 
3. Connecting Good People
Whether it's bean-to-bar, grain-to-bottle or farm-to-table, there are movements happening around the world to help connect people to their food and who makes it. A lot of the chocolate makers we buy from are buying their beans directly from the farmers or co-ops and building organic, long lasting relationships that are beneficial for all. In turn, we buy almost all of our chocolate directly from the chocolate makers (rather than through wholesalers and distributors) and then sell directly to our customers. This simplification of the supply chain helps to make everybody involved feel connected and builds a sense of community, which is evermore important in the age of the internet and social media. We also consider this direct connection an integral part of delivering quality, both in terms of quality of product and quality of life.
4. Helping to Grow the Industry in New Zealand
With only a handful of makers, the craft chocolate industry in New Zealand is still in its infancy, though we've seen a fair amount of growth and raised awareness over the past couple of years. We hope that one day we will see the industry blossom in the same way that craft beer and artisan coffee has, and see it as another area where New Zealand can punch above its weight on the international scene.
Hopefully the work that we do at The Chocolate Bar can help the industry to flourish, alongside the tireless efforts of all the producers and of course the word spread by passionate consumers. Starting up a bean-to-bar chocolate business is not easy and is certainly not a path to quick financial success, but as the scene develops it will provide more of a platform for artisans and small businesses, as well as potential clientele with a taste for high quality.
5. Turn Chocolate Into an Experience, Not Just a Food
Before I discovered the world of fine chocolate I would regularly buy huge $3 blocks of chocolate and inhale them in about ten minutes. I wasn't really thinking about what it was made of or where it came from, I just wanted something sweet and melty to accompany my binge-watching of the latest HBO series. I had a craving for sugar and the chocolate was the fix.
These days, chocolate is not the sideshow for some other form of entertainment, it is the main event. We regularly have hour-long tasting sessions at home or out with friends, where we will work our way through a selection of craft chocolates, taking and comparing notes, sharing our experiences. Chocolate is an activity, a hobby and a passion.
It's unlikely that all of our customers will take it to this level of geekery but I hope that we can help people to become more engaged with their chocolate, as well as providing delicious experiences to enjoy with loved ones and share with the world.
If you have read this far, thank you very much. I don't usually write such long blog posts but as we enter 2018 and our third year of business, it felt like a good time to re-assess our objectives and put into words a manifesto of sorts. I'm continually grateful to all of our lovely customers for making this business possible, as well as our fantastic and talented suppliers who are such a pleasure to work with.
Wishing you all the best for 2018.
The Chocolate Bar