Hazel Lee: Fine Chocolate Devotee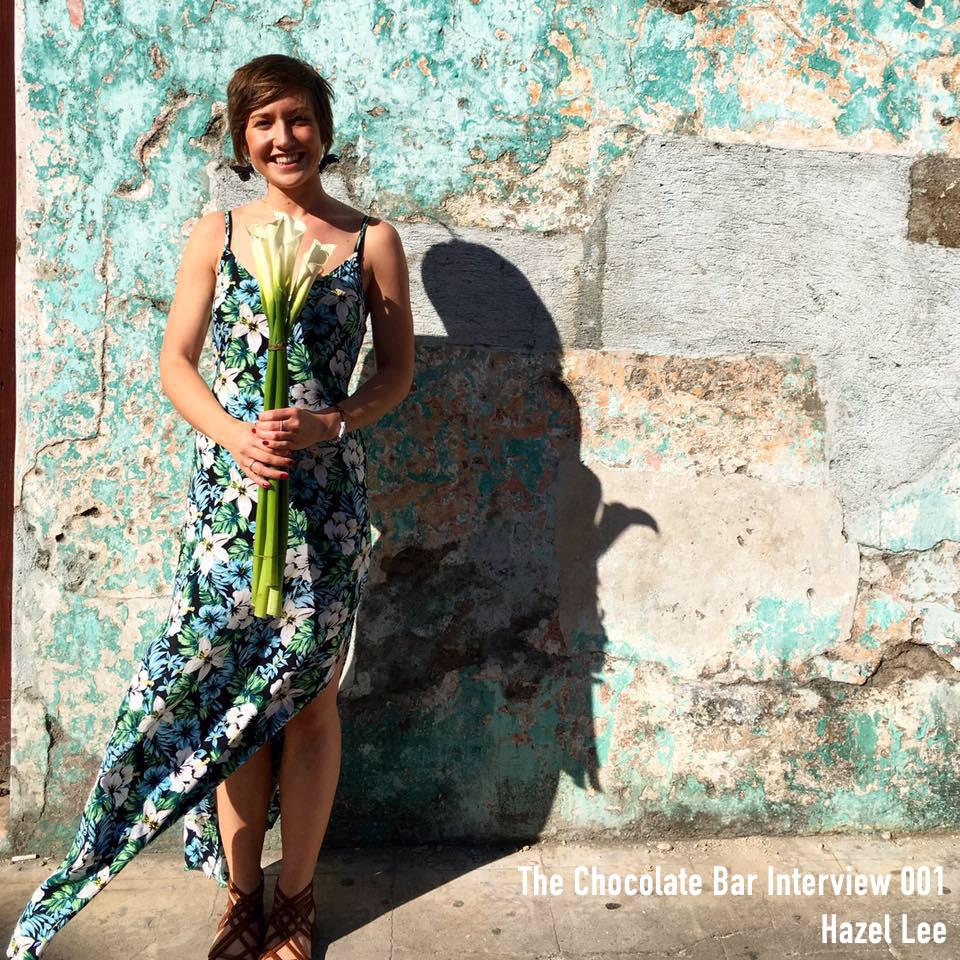 For The Chocolate Bar's first interview we spoke to Hazel Lee, a well known figure in the bean-to-bar movement and a passionate lover of the Theobroma cacao plant.
Amongst other things, Hazel is a judge for the Academy of Chocolate Awards, the International Media and Social Media Director for the Northwest Chocolate Festival and a guide for London's Chocolate Ecstasy Tours. She also spends time visiting cacao plantations around the world, as well as making her own chocolate from bean to bar at home.
We thought it would be interesting to talk to Hazel and find out a little more about what's happening on the bean-to-bar scene...
You seem to be heavily entangled in the world of bean-to-bar chocolate. How did this passion start for you?

I first got hooked on fine chocolate after I discovered a Hotel Chocolat store in Windsor in 2008. But the passion for bean to bar officially started after I volunteered on a cocoa farm in Costa Rica (La Iguana Chocolate) in December 2013. I completely fell in love with the cocoa when I experienced it in real life, at this magical family farm in the jungle. I set myself the challenge to produce chocolate from the bean at home; and through the power of social media and attending various chocolate events in London, my "chocolate life" developed! However, I have loved food since a very young age and studied Food Science at university. I now work full time in food product development, and do as much as I can with chocolate in my free time.

Is there one variety/nationality of cacao that you would describe as your favourite or most treasured?
I have a soft spot for Grenada because it has such a well-rounded cacao; it has an intense flavour with fruity, spicy and rich chocolate notes. I always enjoy a bar of Grenada Chocolate Company and I once made a batch of chocolate using beans left over from the Grenada display at the Chelsea Flower Show in London. It was fruity, spicy, slightly leathery and, overall, very interesting! I also fell in love with Kokoa Kamili from Tanzania through a bar made by The Smooth Chocolator (Geelong, Australia). That bar had very distinct cherry, rose and subtle tea notes, and a beautifully smooth texture. Generally, I like cacaos that are well-rounded and have a good acidity. There are many more that I love!

When judging for the Academy of Chocolate, which different qualities are you assessing?
We start with the appearance, looking at the temper, the colour and the tidiness of the moulding. Then the aroma after snapping a piece in half. Then, placing a piece on the tongue, we assess how it melts, the mouthfeel of the chocolate once it has melted (grainy, creamy, dry), and the flavour. Finally, we assess the finish and aftertaste.

Which chocolate makers do you tend to get most excited about trying their new creations? Or are there too many to mention?
I once did a #chocswap (where we exchange bars) with The Smooth Chocolator in Australia, who I've already mentioned. I was blown away by all 6 of her bars. All had very distinctive flavour notes that were so well balanced, and all had a wonderfully smooth and creamy texture. She has since sent me more bars which have been just as enjoyable! I have also consistently enjoyed Pump Street Bakery and Akesson's because all of their bars have very smooth and creamy textures (I much prefer creamy over dry!). There are plenty more which I get excited about, but those are the ones that immediately spring to mind.

Would you say there's any current trends in the bean-to-bar chocolate world? Any styles of chocolate making that are particularly popular right now?
Most popular, by far, is making chocolate using a wet grinder. The small Premiers are so affordable that it is becoming a very popular hobby to make chocolate from the bean at home! I'm surprised at the quality of some chocolates which have been made in the small Premiers. There seems to be trends in origins of beans, too. It's exciting to see a new origin, which is becoming rarer as cocoa farms start to distribute their beans globally, but it's nice to taste and compare chocolates made with the same beans by different makers. There are some smaller trends that I see popping up with different makers, such as aging the beans in whisky barrels to infuse them with flavour. I've seen this in a few bars now, which is very interesting!

When I left the UK six years ago nobody I know would have heard of bean-to-bar chocolate. Do you think that would have changed now? Is there a growing awareness of the movement or is it still very early days?
I think that there is a growing awareness of single origin and finer quality products and ingredients in the food industry as a whole. The London coffee scene is becoming huge, which involves a lot of single origin sourcing and craft techniques, and I think (and hope!) that bean to bar chocolate will follow.

I see you make chocolate from bean-to-bar in your own home. Could you describe your setup?
Yes and it's quite simple! The most expensive piece of kit you need is the grinder but they are so affordable these days. I use a normal oven to roast my beans, then a can or rolling pin to crack them, a hairdryer to winnow them, and a food processor to "pre-grind" the beans before adding them to the grinder. I then use the hairdryer again to warm the pre-ground bean mass as it begins to refine in the grinder. After applying the initial heat to melt the cocoa butter, the friction will provide heat for the rest of the grinding.

How does your own chocolate compare with the professional chocolate you taste? What are the biggest challenges with making your own?
The biggest challenge is not having the best equipment, because it's so expensive. The Premiers are capable of making some surprisingly good quality chocolate, but I think that using more industrial equipment such as roller refiners, longitudinal conches and ball mills will help make exceptional chocolate. Also, time! I keep pretty busy so I don't make as much home bean to bar as I used to.
Where do you see the bean-to-bar chocolate scene in ten years' time? 
I've absolutely no idea! I've only technically been in the bean to bar world for 2 and a half years, so it's difficult to predict. I hope that it becomes much more popular so that more and more people will support all the wonderful makers and farmers out there!
----------------------------------------------------------------------------------------
Thanks so much to Hazel for taking the time to do this interview. If you'd like to learn more about what she gets up to, please do check out her website.
And if you're keen to try some chocolate from The Smooth Chocolator, keep an eye on our store over the next few months.