Interview 003: Karl Hogarth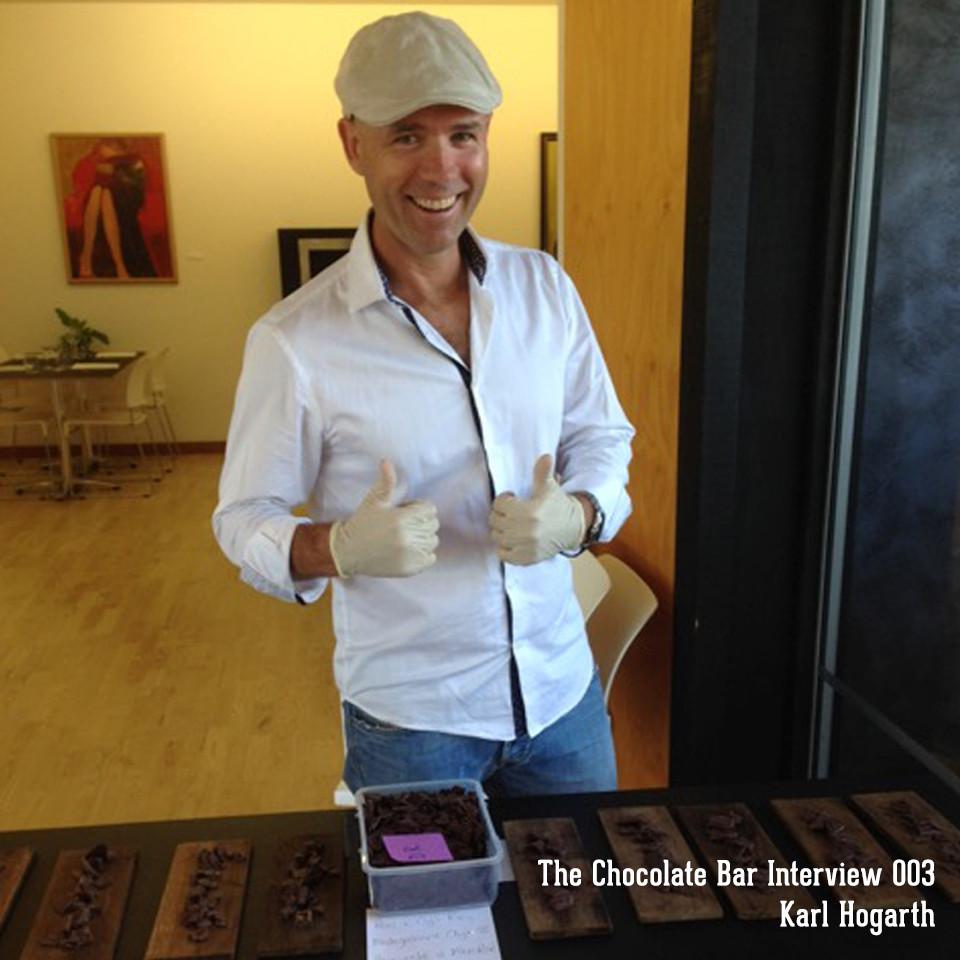 Here at The Chocolate Bar we were honoured to be one of the first stockists of Hogarth Craft Chocolate and it's been great watching them develop over the course of 2016, gaining recognition in New Zealand and throughout the craft chocolate world. We caught up with owner and chocolate maker Karl Hogarth to find out a little more about what he's been up to...
1. I believe you used to be a sailor - how did you make the transition from sailing to chocolate making?
Thats right. First a fisherman, then I crossed over into the oil & gas industry as an officer aboard specialised vessels. 
I've always loved chocolate but my interest in cacao came from trying some local "chocolate" in Guatemala. It was more like a fudge than what we know as chocolate, but the flavour was amazing. It really opened my eyes to how amazing cacao can taste, and how bland industrial chocolate is. Back in NZ I started researching how chocolate is made and came across Chocolate Alchemy and the community of home chocolate makers around the world. I couldn't wait to get started! I found the machine I needed in Singapore (where I was working) and started experimenting and driving my wife crazy with my new obsession. The chocolate was tasting so good I wanted to start selling it at our local market, but council regulation wouldn't let me because it wasn't made in a registered premises, so the decision was made to start building a little factory with a view to making chocolate full time. I was looking for a way to stay home with my kids and chocolate seemed like the obvious choice.
2. What is it about chocolate making that you enjoy the most?
They say if you enjoy what you do you will never work another day in your life, and that's how I feel about making chocolate. I have to remind myself that it's work some days, I can't think of anything I'd rather be doing! The most enjoyable part is seeing the lightbulb come on when people try our chocolate, just like it did for me.
In terms of the actual making, it would have to be the challenge of problem solving how to make chocolate on a small scale without off-the-shelf machinery; researching, prototyping and coming up with solutions for turning cocoa beans into chocolate.
3. How do you source your cacao beans?
I'm always on the lookout for new origins. Unfortunately being so far away and being small scale its not feasible to visit the farms. We use traders who can offer transparency and can satisfy our ethos that the cacao is ethically traded, and a healthy relationship with the farmers. Theres much more to it than simply buy/sell. Good traders train the farmers in fermentation and post harvest processing techniques, they get involved on ground level to help the farmers offer a quality product, which means they can earn more.
4. It's still early days for craft chocolate in New Zealand - how do you see it developing over the next five to ten years?
I'd like to see more people making craft chocolate in NZ. I think Kiwis will embrace craft chocolate the way they did coffee and craft beer and we should start to see more and more people having a crack at making it. 
5. I see your chocolate is now available in the U.S and the U.K - have you had quite a lot of interest from overseas?
We just became available in Paris. Yes we get enquiries all the time. We aim to be available worldwide, but its going to take quite a bit of work.
6. Are there any new cacao origins you're working with at the moment? Any products we can expect to see in the future?
Oh yes. I have been wrangling with a Haiti bean for a while. It's now on the shelf ageing and should be available in a month or so. Also we have Guatemala and Bolivia beans waiting to be trialled. I've also been playing with different flavours - coffee, fruits, vegetables & even garlic. We have a Milk Gianduia which we sell at the market, not available in store - it's too soft to mold into a bar but utterly delicious. We make that into 100g logs. 
7. Are there any other chocolate makers who you find particularly inspiring or influential?
Certainly. I'm quite inspired by Roszavolgyi's design, I love everything they do. And by Alan McClure of Patric Chocolate for his chocolate, which so far is the best I've tasted. Actually there are heaps I'm inspired by: Marou, Manoa, Dick Taylor, Ritual, Soma, Askinosie, Amano… all in different ways.
----------------------------------------------------------------------------------------

Thanks so much to Karl for taking part in this interview. Be sure to check out his chocolate in our store or come and visit us at a market and have a little taste.