The Chocolate Bar Interview 012: Olivier Fernandez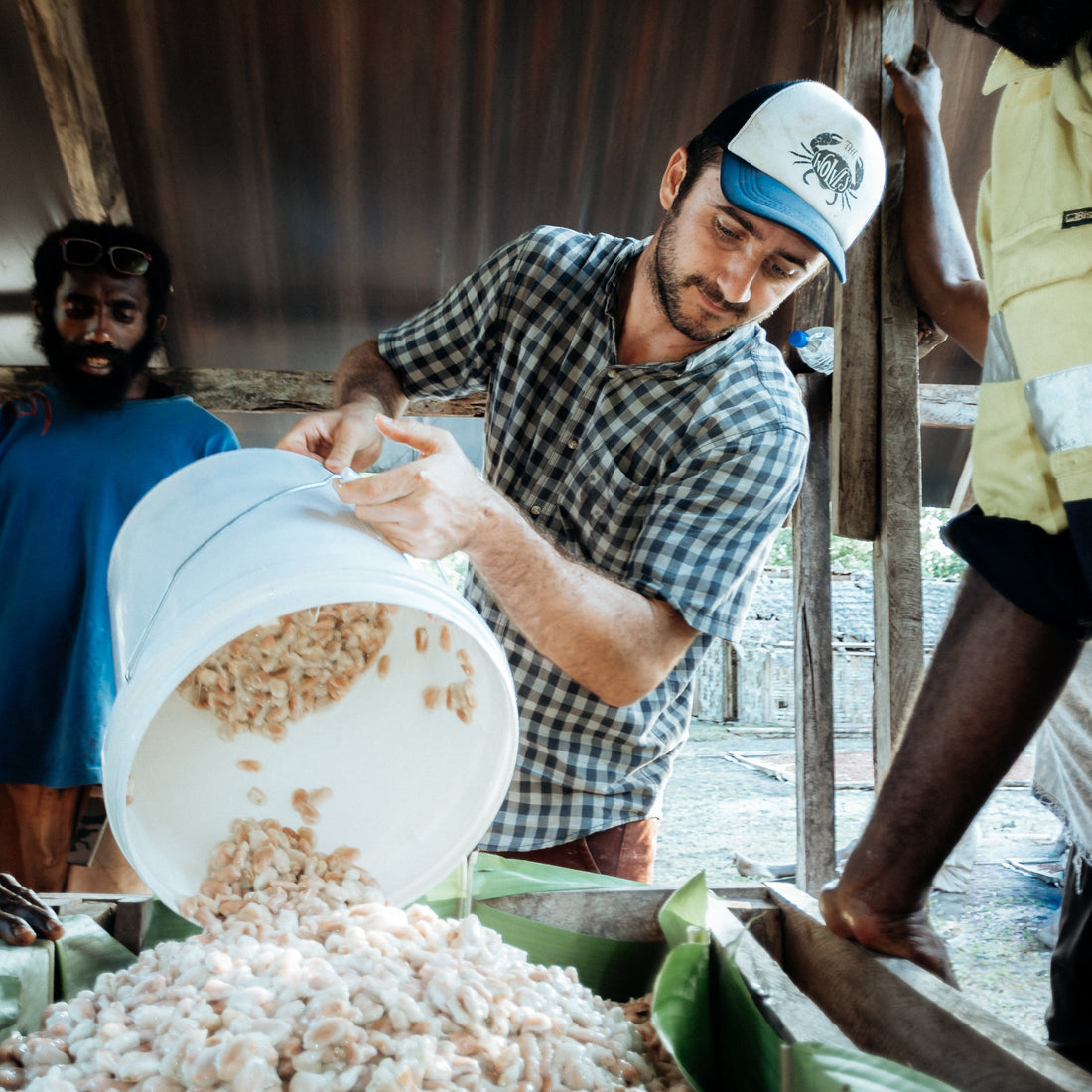 For our latest interview we caught up with Olivier Fernendez, owner and chocolate maker at Gaston Chocolat, who we featured in our October subscription boxes. There are very few craft chocolate makers based in the Pacific Islands so we thought it would be interesting to learn more about what that's like, both as a lifestyle and in terms of the logistics. Be sure to have a read of this fascinating chocolate story... 
How did you end up living in Vanuatu and becoming a craft chocolate maker? 
I first visited Vanuatu in 2006 [Olivier is originally from France] and met an incredible woman who is now my wife. I fell in love with her and her country. We've been here for over a decade and I enjoy every day with the same intensity. To me Vanuatu and Port-Vila are like Tortuga for Captain Sparrow, a place I feel attracted to and I've called home since the day I landed here.
The chocolate making came from a passion for agro-development and entrepreneurship. After investing a few years working with the local cocoa growers we figured there was more to do to add value, and the processing of the beans into chocolate was a natural path. It triggered numerous trips overseas to learn and train properly in chocolate making and get our first bars made in Vanuatu. I enjoy it so much that it never feels like work to me but I have to pretend it is.
What kind of size is Gaston Chocolat, both in terms of your premises and your team?
We are small and growing, with a team of three full time and one part time and looking to add one more part time on sales. We have sold over 15,000 bars on the local market since October last year when we started our commercial operations. We work in a 100m2 workshop right in town, on the main street of Port Vila, the capital city of Vanuatu. We have a production capacity of about 5,000 bars per month and we are now looking to export.
Do you buy directly from the cacao farmers? If so, what is that relationship like? 
We were working with the farmers before we started making chocolate. When you are in a country that grows cacao and you know how important the quality of beans is, you have to be in the field. We interact with sixty of them over seven locations in the western and northernmost islands of Vanuatu. At every location, we've dedicated time and resources to understand the constraints, and come up with tangible and simple solutions. We also assessed the impact of every decision. When you ask for sun-drying of the beans for example, it takes twice as much time than hot air and fire wood drying, which is commonly used for bulk grade cacao and smokes the beans. So, unless you are ready to pay twice the price for the beans, it is not sustainable.
The science part of making beans is important and it has to be linked to the farmer's needs and livelihood to be efficient, and to work out a fair and comprehensive pricing. After four harvest seasons we achieved constant good quality beans in volumes that could support our commercial needs. We're out in the field at the beginning of each harvest season and we make the first fermentation together. We have a close relationship and it is essential to what we do. We chose to work with 100% local beans and want them to be of the best quality possible. The dominant genetics in the field are of the Amelonado-trinitario type, and we've done a lot of work on the fermentation process and post-harvest handling together.
Are you seeing a lot of development in cacao and chocolate in Vanuatu? 
It is hard to quantify. I see a lot of qualitative work that supports quality improvement but not necessarily volumes exported, which is usually the metrics of reference to measure a market. I have witnessed the emergence of a higher quality market to supply chocolate makers over the past 5 years, however the logistics aspect of growing cacao in a remote archipelago is a constraint that slows down the development and limits the tonnage.
Ageing plantations and the lure of more lucrative crops or more profitable businesses have played against the cacao industry. I believe cocoa is making its way back at the forefront of the farmers' and government's interests, and they're now eyeing the potential for a premium quality to export, but the road is long and there are no shortcuts. Success will come through training and infrastructure development. I believe in centralised fermentation centres and there is a need for high standard storage facilities to preserve the quality along the supply chain. Too often I see a lot of work done upstream to achieve higher quality that is lost by poor handling during transportation and storage.
What are some of the challenges you face with being based in Vanuatu?
My freight costs and borrowing rate at the bank would make you jump to the roof and my power bills would nail it. More seriously, the logistics and the costs that come with moving commodities around the islands (and overseas) are challenging. The fact that we don't access the same level of services and the remoteness is also a challenge, which we tackle by doing the extra mile of work needed to make it happen. You have to be hungry. That said, I believe every environment has its own challenges and despite those we face by being here, we are competitive with the international market and - in my opinion - the benefits of having direct access to the farmers and the beans and the beauty of this country and its culture outweighs those challenges. Vanuatu also teaches you patience or what we call "island time". What's not done today will be done tomorrow or maybe the day after.
How does the growth in popularity of craft and fine chocolate affect the lives of cacao farmers in Vanuatu?
It is a slow change. When I saw the bean-to-bar movement growing and met some well renowned chocolate makers along the road, I thought that it could change the face of the cocoa market, but some realities are far more complicated than it seems and that's one of the main reasons why we are in the field as often as we can be. The logistics behind good beans are tremendous and preservation of the beans isn't easy in tropical areas where they are grown, especially when the geographic nature of your country is an archipelago, with limited access to roads and a pricy shipping. The quality of the beans has improved significantly and there is a spot to take in the supply of exotic origin beans in the world market. 98% of the local production goes into cocoa butter mass production, exported overseas and bought at a lower price than top quality cocoa could be. This is where we are working to link buyers and chocolate makers with the right cocoa growers, to slowly develop the fine cacao market and get the cocoa growers additional revenue for beans that require a lot more attention and preparation work.  
Do the local people in Vanuatu eat a lot of chocolate? If so, is there a particular style that is most popular over there?
Both cacao and chocolate were brought here from overseas so it's not in the culture to eat chocolate or process cacao. Most of the time when you mention cacao people remember when they were kids and used to crack open the pods to enjoy the fresh fruity flesh that wraps the beans. Chocolate sells mainly in urban areas and in terms of chocolate style, the market relied on imports of candy bars for decades so pretty sweet and milky chocolate is popular. Since local chocolate is making its name we see an increasing interest for dark and local chocolate.
Thanks for the compliment! Nangae is the name in Bislama, our main language in Vanuatu, but they are also known as Galip or Cannarium nuts in Papua New Guinea and elsewhere in the region. The shell is very hard but the nut is soft and wet inside. I used to enjoy them in my breakfast muesli and tried several recipes to enhance some flavours; roasting was the key. Blending the nuts with caramel allowed for butterscotch notes to develop. It's actually a blonde sugar, not a proper caramel since we stop the cooking right at the time the sugar turns brown, to keep it light and avoid caramel taking over the nut flavour. They are supplied by a good friend who knows the archipelago like the back of his hand, and recently he took me out to one of his favourite harvesting areas in the south of Malekula Island. It was all good fun and we've fermented some cacao there too, while learning more of the local dialect - one in over a hundred spoken across the archipelago.
What are some of the best chocolate bars you've tasted recently? 
The 70% dark single-origin Madagascar by Bahen & Co. I can taste its fruitiness and subtle floral notes by naming it, perfectly balanced and with the right creaminess. The 75% Hacienda el Rosario, Venezuela single-origin by Stephane Bonnat is bluffing, intense and malty, and the making is perfection; conching and fineness are mastered. The 70% Dak Lak, Vietnam single-origin by Marou, its honey notes from raw sugar are blending nice with the red berries and grape flavours of the beans. To finish on a local note, I met with Martyn O'dare in May, he's a co-founder of Islands Cacao & Chocolate Ltd, and was on a bean sourcing trip in Vanuatu and brought me his Solomon Island 72% Guadalcanal single-origin, which I really enjoyed.
What is your favourite thing about being a chocolate maker?
To see the smile eating chocolate puts on everyone's face. I believe it talks to the kids in us.
Thank you so much to Olivier for taking the time for this interview. Be sure to try some Gaston Chocolat if you'd like to experience beautiful chocolate with a pure expression of Vanuatu terroir.