The Chocolate Bar Interview 022: Kelly Go, Auro Chocolate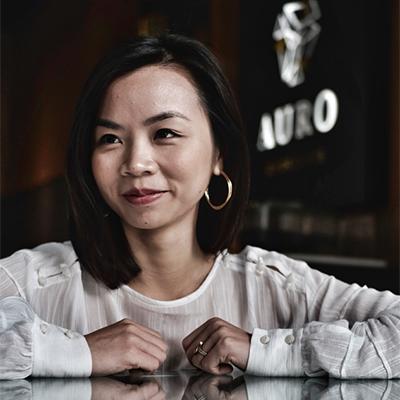 For my latest interview I caught up with Kelly Go, co-founder of Auro Chocolate in the Philippines. Kelly's background in Political Science and Culinary Arts led to her decision to move back to the Philippines from the U.S and create a socially conscious and high quality chocolate company. She launched Auro Chocolate in 2015, along with her best friend Mark Ocampo. We're featuring Auro's Tupi 70% bar in our August subscription boxes, so I thought you might like to know a little bit more about this beautiful chocolate...
What is your background and what led to the creation of Auro Chocolate?
My chocolate journey was far from a straightforward one. I graduated from the University of Chicago with a degree in Political Science and International Studies. I then decided to go to Le Cordon Bleu in Paris to pursue my lifelong passion for food. My mom is a pastry chef/engineer and my family is in the food equipment business, so my curiosity for food was developed from a very young age. My time at Cordon Bleu and France made me gain a deeper appreciation of the importance of sourcing quality ingredients and elevating it through the art of cooking/baking. Since I realised quite quickly that my skills were better suited to work outside rather than inside a kitchen, I started searching for various food-related opportunities in the Philippines and eventually settled on cacao because not only did I absolutely love chocolate, but saw that it gave me a unique opportunity to combine my passion for food and community development. Mark, my best friend, and I decided to partner together and move back to our home country, the Philippines, in 2015 to create great chocolate that makes a difference in our own community. It has been the most challenging and rewarding journey of our lives, and we are excited to keep pushing Philippine cacao and chocolate onto greater heights! 
Where does the name Auro come from?
AURO is a portmanteau of Au, the chemical symbol of gold, and Oro, the Spanish and Filipino word for gold. It represents a new way of looking at an old tradition. The Philippines is actually one of the first countries in Asia to plant cacao in the 17th century during the Spanish colonial period, and the first variety of cacao that was planted was criollo from Mexico brought here through the Manila-Acapulco galleon trade. In addition, we have also developed a rich culture of creating our own form of cacao drink called "sikwate" or "tablea" that has been passed on from generation to generation. This long history of cacao production and consumption has been largely taken for granted and not been widely shared with the rest of the world until recently, and represents the hidden treasure or gold in the Philippines that we have sought to uncover and transform into stories and products that make people see its actual value. 
How do you decide where to source your beans from and which farmers to work with?
We have decided to focus our sourcing initiatives in Davao, known as the "fruit basket" of the Philippines, because it is where more than 80% of the cacao in the country is produced. It is the region with the greatest diversity of cacao varieties and qualities at the moment, and many farmers and cooperatives have basic knowledge of cultivation and post-harvest techniques. We are also starting to develop other regions, but those will still take some time as they are in the early stages. We specifically choose to work with individual farmers and cooperatives who are committed to producing excellent quality of cacao and also share our social and environmental values. 
How does Auro Chocolate support cacao farmers?
We go beyond "bean-to-bar" by involving ourselves in every step of the process. Since we have a satellite office in Davao and employ a full-time team there, we are able to offer constant support to our farming partners and teach them organic farming and business management fundamentals. We are currently working with over 10 cooperatives and 50 individual farmers. We directly purchase all our beans from farmers at higher value, between 20 to 50% of global commodity price, to inspire quality and give farmers the opportunity to improve their standard of living. 
We also share farmers' stories and highlight more unknown regions of the Philippines like Tupi in South Cotabato that often do not get sufficient recognition. In fact, one of the farmers that we have mentored over the past 5 years, Mr. Jose Sagoban of Paquibato village, was recently awarded Top 20 Best Cacao by Cocoa of Excellence in 2019. 
How has COVID-19 affected your business?
During the onset of the lockdown in the Philippines in mid-March, we lost the majority of our business and had to cease production temporarily as the entire country basically came to a halt and movement of goods and people was severely restricted. We immediately decided to pivot our business more towards e-commerce, which has helped us gradually recover. We are now back in normal operations and have been able to thankfully keep most of our team members. This pandemic has definitely taught us the importance of being resilient and adaptive. 
We're featuring your Tupi 70% bar in our August subscription boxes. What can you tell us about this origin?
Tupi is a municipality in South Cotabato located at the foothill of Mount Matumtum in the southern part of the Philippines. It is most famous for the hundreds of hectares of pineapples that grow on its fertile volcanic soil. In between these large pineapple plantations, there are small farms that grow some of the rarest varieties of cacao that can be found in the country. 
Is there a growing appreciation of high quality single origin chocolate in the Philippines? 
It is definitely growing! Despite being one of the oldest cacao producers in the world, the Philippines is only starting to be recognised recently as an important origin of high quality, single origin chocolate. The international recognition and wider distribution gained by a few local craft chocolate producers like ourselves have definitely helped put the Philippines on the map, and I believe that this appreciation will only continue to grow over time. 
What are some of the biggest challenges in your work?  
Constantly adapting to the ever changing times and penetrating new markets. It's not always easy to find the right partners, but we focus on finding one's that share our same values and grow with us. 
Who are some of your favourite chocolate makers?
So many to choose from. A few would include Taucherli, Omnom and Fjak. 
What are your hopes for the future of Auro Chocolate?
We want to be able to reach more people through chocolate and empower more farming communities.
Thanks so much to Kelly for taking the time for this interview. Be sure to check out the Auro Tupi 70% bar in our online store.